Undergraduates Present their Work at Statewide Research Conference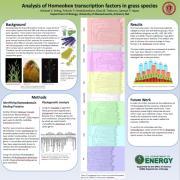 Mike Veling, Jessica Sysopha, and Audrey Miller presented their research on Brachypodium distachyon and Clostridium phytofermentans at the 5th Annual Undergraduate Life Science Research Symposium and the 17th Annual Massachusetts Statewide Undergraduate Research Conference.
Sysopha J, Lee SJ, Alvelo-Maurosa J, Warnick TA, Young NF, Pedersen JF, Leschine SB, Caicedo AL, Hazen SP (2011) Assaying natural variation for feedstock quality in accessions of Brachypodium distachyon.
Veling MV, Handakumbura P, Trabucco GM, Hazen SP (2011) Analysis of Homeobox transcription factors in grass species.
Miller A, Warnick TA, Alvelo-Maurosa J, Lee SJ, Hazen SP, Leschine SB (2011) Investigations of the Clostridium phytofermentans bioassay for plant feedstock decomposition.