The Plant Biology Graduate Program at University of Massachusetts Amherst held its Fifth Annual Symposium in Plant Biology on Saturday, October 13, 2007. Our thanks to the this year's PB faculty symposium coordinators - Danny Schnell and Jennifer Normanly.
Over 175 faculty, undergraduate and graduate students from across the Northeast attended, as well as representatives from industry. The poster session featured over 50 posters from 15 different institutions. The full day's schedule of events is posted below.
For information on our past symposiums, click here.
2007 PB SYMPOSIUM SCHEDULE:
8:30 AM
Registration- ECSC-II (Engin. lab II) lobby
9:00 AM

Welcome -ECSC-II Auditorium, Room 119
Elsbeth Walker, Director, PB Graduate Program
Introductory remarks


9:05 AM
FREDERICK AUSUBEL
Professor of Genetics, Department of Genetics,
Harvard Medical School and
Molecular Biologist, Department of Molecular Biology, Massachusetts General Hospital
"Pseudomonas aeruginosa - Arabidopsis interactions as a model to study plant cell wall degradation"

9:55 AM
Morning break, refreshments- ECSC atrium. Enter Sinauer Associates book raffle.
10:10 AM
DANIEL J. COSGROVE
Professor of Biology,
Pennsylvania State University
"Wall loosening by expansins"
11:00 AM
STEPHEN J. LONG
Professor of Crop Sciences, Robert Emerson Professor and Resident Scientist for the National Center for Supercomputing Applications,
University of Illinois at Urbana-Champaign
"Achieving environmentally and economically viable biofuel feedstock crops. Why improvement of photosynthetic efficiency is critical and attainable."
12 noon
Poster set-up and lunch. 10th floor, Lincoln Campus Center
12:30 -1:30 PM

Lunch and poster preview. 10th floor, Lincoln Campus Center

1:40 PM
Welcome to afternoon session- ECSC 119
1:45 PM
CHRIS SOMERVILLE
Department of Plant Biology,
Carnegie Institution and
Department of Biological Sciences,
Stanford University
"Cellulose synthesis"
2:35 PM
KENNETH P. VOGEL
Research Leader & Geneticist, Agricultural Research Service, USDA, Adjunct Professor, Agronomy Department, University of Nebraska, Lincoln
"Switchgrass: Ecology, Biology, Genetics, and Agronomics of an Emerging Energy Crop"
3:25 PM
Afternoon break, refreshments- ECSC atrium and lobby. Drawing for Sinauer Associates book raffle.
3:45 PM
SUSAN LESCHINE
Department of Microbiology
University of Massachusetts, Amherst
"A novel microbial catalyst for converting biomass to ethanol "
4:45 - 6:30 PM
Poster session and reception, 10th floor, Lincoln Campus Center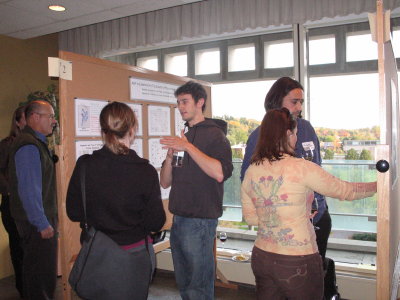 For more information or questions, send an email to: pb@bio.umass.edu
We hope you will join us each October for this annual PB event.