SATURDAY, OCTOBER 6, 2012. 9AM to 6 PM.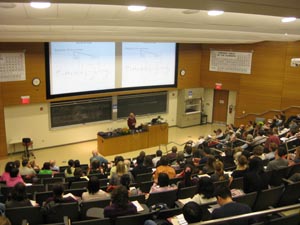 The Plant Biology Graduate Program at University of Massachusetts Amherst presents our 10th annual Symposium in Plant Biology on Saturday, October 6, 2012. The symposium is an initiative of the graduate program that is designed to highlight an exciting area of plant biology by featuring a daylong program of speakers, along with a poster session featuring contributions from attendees.
REGISTRATION FOR THE EVENT IS NOW CLOSED.
The talks will be in the Integrated Sciences Building auditorium, officially ISB room 135. ISB is located just north of Morrill Science Center, across the street from Hasbrouck. The poster sessions, lunch and reception will be on the 10th floor of the Campus Center. Here is a campus map with the locations highlighted as a pdf file.
Directions: Follow this link for general directions to the University of Massachusetts Amherst campus
Parking: Paid parking is available at the Campus Center Hotel or you may park free on campus on weekends in any non-24 hour lot or in any space that is not marked as a special reserved space. The closest parking will be in lots marked '63', and there is one next to the building. For more information and map of campus parking lots, go to the visitor parking web page. You may also park in lot 62, just south of Morrill Science Center. The street address for the Integrated Sciences Building is 661 N. Pleasant St., Amherst, MA 01002.
SYMPOSIUM SCHEDULE:

8:30 AM

Registration- Integrated Sciences Building Atrium (ISB lobby)
9:00 AM
Welcome - ISB Auditorium, Room 135
Elsbeth L. Walker, Director, PB Graduate Program
Speaker introductions: PB symposium coordinator, Alice Cheung
9:05 AM
GRAHAM WALKER
Department of Biology
Massachusetts Institute of Technology
"Getting Inside and Living There: Bacterial Functions for Symbiosis"
9:55 AM
Morning break, refreshments- ISB atrium. Enter Sinauer Associates book raffle. Speaker introductions: PB symposium coordinator, Li-Jun Ma
10:10 AM
GREGORY MARTIN
Boyce Thompson Institute for Plant Research
Department of Plant Pathology and Plant-Microbe Biology
Cornell University
"Attack and defense at the interface of bacterial virulence proteins and plant immunity"
11:00 AM
ROGER WISE
USDA-ARS
Dept of Plant Pathology and Microbiology
Iowa State University
"Intersection of eQTL and functional mutagenesis in barley-powdery mildew interactions"
11:50 AM
Poster set-up and lunch seating. Campus Center- 10th floor.
12:00 -1:50 PM
Lunch and poster preview session. Campus Center-10th flr.
2:00 PM
Welcome to afternoon session- ISB auditorium, room 135
Speaker introductions - PM session: PB symposium coordinator, Dong Wang
2:10 PM
JOHN MANNERS
CSIRO Plant Industry, Australia
"Fusarium pathogenomics: Nasty tales of poisoning, hijacking and disarming the host"
3:00 PM
XINNIAN DONG
Biology Department
Duke University
"Dynamic regulation of plant immune responses"
3:50 - 6:00 PM
Drawing for Sinauer Associates book raffle, ISB lobby
Poster session and reception, Campus Center, 10th floor.
We look forward to seeing you! Symposium coordinators - Li-Jun Ma, Dong Wang and Alice Cheung.
Information or questions - send an email to: pb@bio.umass.edu
For information on our past symposiums, click here.