SATURDAY, OCTOBER 5, 2013 - 9:00 am to 6:00 pm
REGISTRATION IS NOW CLOSED. You may still join us for the talks- please see the staff in ELab II on Saturday morning.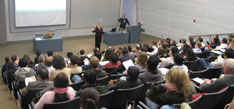 The Plant Biology Graduate Program at University of Massachusetts Amherst is pleased to announce our eleventh annual Symposium in Plant Biology on Saturday, October 5, 2013. This year the theme is "Going the distance: Integration of Long Distance Signals in Plants". The symposium is an initiative of the graduate program that is designed to highlight an exciting area of plant biology by featuring a daylong program of speakers, along with a poster session featuring contributions from attendees.
Please note talks will be in the Engineering Lab II auditorium room 119 (not the ISB auditorium as in recent years).
ELab II is located behind the Computer Science building on the north side of campus, just beyond Bowditch and Holdsworth (area B2 on the campus map). The poster sessions, lunch and reception will be on the 10th floor of the Campus Center.
Directions: Follow this link for general directions to the University of Massachusetts Amherst campus
Parking: Paid parking is available at the Campus Center Hotel or you may park free on campus on weekends in any non-24 hour lot or in any space that is not marked as a special reserved space. The closest parking to the auditorium will be in the lots on Governors Way across from the Computer Science- marked lots 26 and 31. Lot 45, next to the building is under construction. For more information and a map of campus parking lots, go to the visitor parking web page. The event will end at the Campus Center so you may also park in lots convenient to that location.

SYMPOSIUM SCHEDULE:
8:30 AM

Registration- Engineering Lab II atrium (ELab II lobby)
9:00 AM
Welcome - ELab II auditorium, room 119
Elsbeth L. Walker, Director, PB Graduate Program

9:05 AM
ROBERT TURGEON
Department of Plant Biology
Cornell University
"Why is there more than one mechanism of phloem loading?"
9:55 AM
Morning break, refreshments- ELab II atrium. Enter Sinauer Associates book raffle.
10:10 AM
FRIEDRICH KRAGLER
Max Planck Institute of Molecular Plant Physiology, Germany
"Long-distance transport of RNA molecules - identity, destiny and transport motifs"
11:00 AM
LESLIE SIEBURTH
Department of Biology
University of Utah
"A long-distance signaling pathway unveiled by the Arabidopsis bypass1 mutant."
11:50 AM
Poster set-up and lunch seating. Campus Center- 10th floor.
12:00 -1:50 PM
Lunch and poster preview session. Campus Center-10th flr.
2:00 PM
Welcome to afternoon session- ELab II auditorium
2:10 PM
PRADEEP KACHROO
Department of Plant Pathology
University of Kentucky
"Systemic signaling in plant defense"
3:00 PM
MECHTHILD TEGEDER
School of Biological Sciences
Washington State University
"Source to sink transport of organic nitrogen in plants"
3:50 PM
Drawing for Sinauer Associates book raffle, ELab II atrium.

4:00 to 6:00 PM

Poster session and reception, Campus Center, 10th floor.
For more information or questions, send an email to: pb@bio.umass.edu
We hope you will join us in October!
Symposium coordinators - Elsbeth Walker and Tobias Baskin